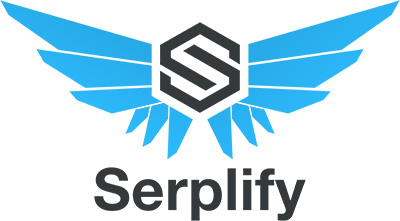 Boosting Your Local Presence. It's Simple, It's Serplify.
Serplify is a highly intelligent software suite that automatically builds unique, perfectly optimized local sites for you (with all the essential pages), ranks them on page 1 of Google for your targeted keywords... and then you can rent these sites out to businesses with just a few clicks.
Here's what Serplify can do for you:
Automatically creates local pages for your business (One for each city!)
Automatically syndicates your page.
Instantly gets you thousands of instant backlinks.
Creates unique version of local pages, no duplicates.
Integrates monetization of all the local pages created.
What does this all mean? Unlimited, free Google traffic!
It will only take you 60 seconds to set up an automated campaign. Seriously - there's a demo video made by a good friend of mine, Joshua Zamora, creating hundreds of unique local-specific pages in ONLY 60 seconds.
Serplify Demo Video
After the purchase, you can also look at Serplify Academy - a full in-depth step-by-step video training course on how to find the best local niches, build perfectly optimized sites the right way around them (which works with Google's latest algorithms) and EASILY find hungry prospects that are ready to rent your sites.
Serplify Deluxe is also their Unique Prospecting software to unlock additional features of Serplify that you won't get on the front on. You'll be able to create unlimited sites without any restrictions AND have the rights to build sites for your clients.
Not just that, they also offer Serplify Reseller License where your customers will be able to sell access to Serplify as their own to their clients and keep 100% of the profit.