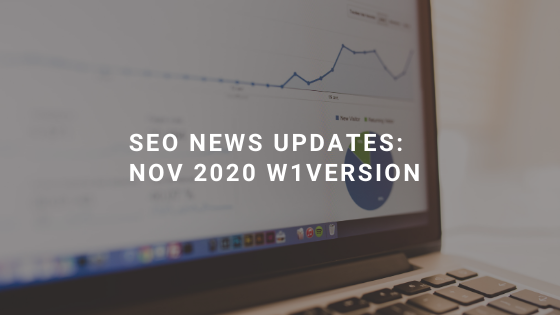 Hey SEO Peeps, hope you're not too overwhelmed with all the political pandemic dramas going on. Let's have a change of topic and let us welcome you to another weekly roundup of SEO news.
Bing is making a big shift on their Search APIs offerings while SEOs are still confused over the whole passage indexing update from Google. Buckle up, and hang tight for the ride!
29/10/2020 – Does Site Traffic Affect Web Cache? No.

John Mueller replied to a tweet asking if Google cache high-traffic keywords for SERP pages, the answer is no, caching in search is not dependent on traffic.
Checking your cached page can still be a handy way to check if Google has crawled and indexed any update from your page. But you'd better use Search Console for that.
30/10/2020 – Bing Search APIs Transitioning to Azure Marketplace starting October 31st
In a blog post, Bing announced that they are moving the Bing Search APIs from Azure Cognitive Services Platform to Azure Marketplace.
Those with active Bing Search APIs under the Azure Cognitive Services will continue to receive support for 3 years or until the end of their agreements.
Other changes includes a price reduction to $3USD per 1000 transactions, while the free tier will now also be offering Autosuggest, Spell Check, and Entity Search APIs.
30/10/2020 – Passage Indexing Is Not A Core Update
SEOs are still confused about the passage indexing change. Rightly so if you asked me, with it being more about ranking and less about indexing.
Google shed more light on passage indexing during the October 30 SEO Office Hours hangout.

John Mueller is saying "It's not a core update… it's more about ranking these passages from existing pages rather than indexing them in the individually. So more about recognizing this is a big page and this is a part of the page that is particularly relevant to this query that is coming, so we'll focus on that part of the page."
John also reasoned that the idea behind passage indexing is so Google could understand a messy and less structured page just as well as a clean and structured page.
More details and transcript is here on Barry Schwartz'sblog.

31/10/2020 – data-vocabulary.org Markup No Longer Supported For Rich Results Starting Jan 31st, 2021
Google Webmasters tweeted that they are officially retiring support for data-vocabulary.org markup for rich results in lieu of schema.org.
Google previously announced that support will be retired on April 6th, 2020 but that was delayed.
Markups should be updated following schema.org to ensure for rich results eligibility. Check out this Google Webmasters' Blog Post for more information.

03/11/2020 – Google Now Testing Short Videos Carousel

Another new SERP testing spotted, this time, it's a Short Videos carousel.
@SaadAlikhan1994 on twitter spotted this new carousel for a recipe query on mobile.
It seems like the mobile SERP is getting aggressively more visuals, with the introduction of more video, and image heavy carousels, not forgetting web stories.
And that ladies and gentlemen, marks the end of this week's SEO update. Like always, let us know if there's any worthy news we missed or if you have any comments free free to post it below.
Stay safe, and we'll see you next week!

Updated: 11 May 2021