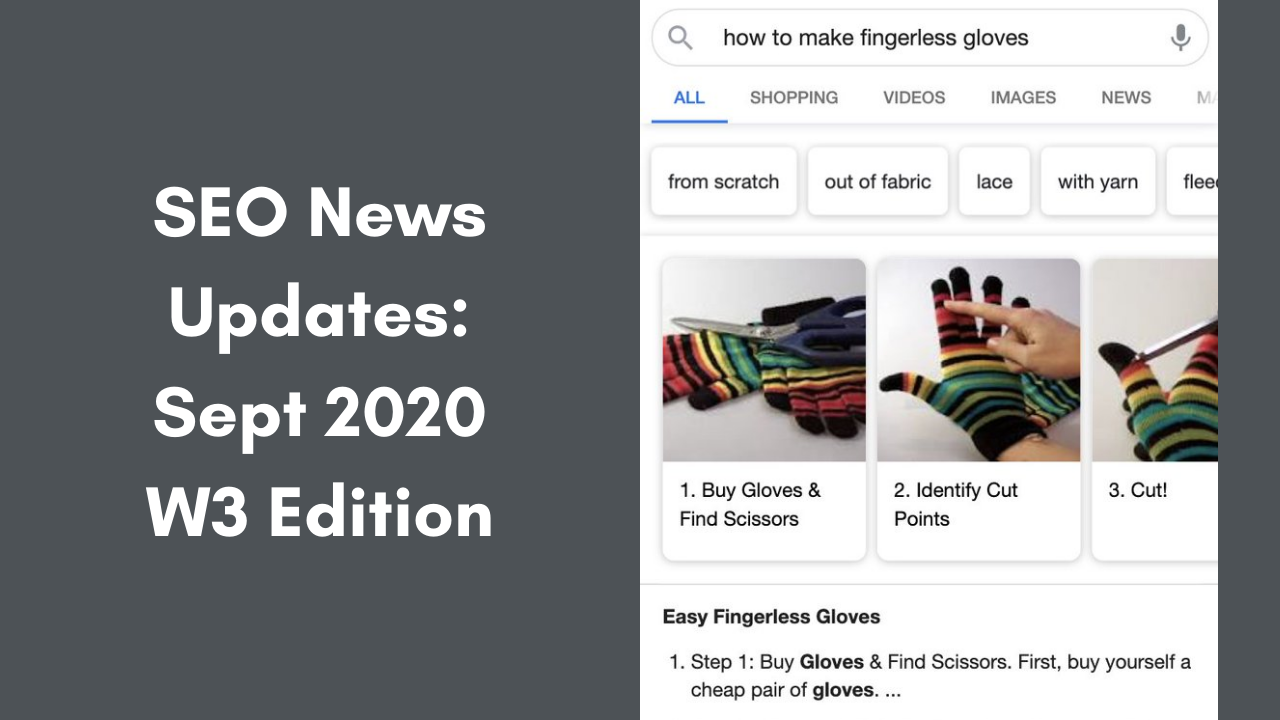 Hey SEO peeps, it's Friday again and that means it's time for another weekly roundup of SEO news. 
To get a quick glance of what's happening this week:
Google is looking for feedback on wildly inaccurate site command counts
Google featured snippets with how-to schema
Google is testing knowledge panel in the middle of the search results
Read on to get the gist of the news.
14/9/2020 – Google wants feedback on Wildly Inaccurate Site Command Counts
Gary Illyes from Google is recently showing interest in making the site command more reliable for more sites.
If you are not sure what we are referring to, we are talking about:
In his tweet, Gary posted that he is looking for examples of when the site command count returns wildly off numbers compared to what shows in Google Search Console for the number of pages indexed on your site.
14/9/2020 – Google Featured Snippets with How-to Schema
Brodie Clark highlight that Google is now showing some featured snippets that also have the how-to schema show up in the Google search engine result page (SERP).
Brodie said that, "…this might be the first time I've seen Structured Data influence a Featured Snippet on search results."
In the results, the how-to schema carousel is right above the featured snippet and when you click on the steps in the how-to schema, it takes you to the site listed in the featured snippet.
And this can be great ranking opportunity as it means 2x the SERP real estate.
15/9/2020 – Google tests Knowledge Panel in the Middle of the Search Results
It looks like Google is testing its Search Engine Result Page again, and this time the knowledge panel box in the middle of the search results.
Saijo George posted a video screencast on Twitter of this in action which shows the new layout. 
17/9/2020 – GoogleBot to Crawl Some Sites Over HTTP/2 
Google announced that starting in November 2020, it may begin to crawl some sites over HTTP/2.

This will start with a small number of sites and Google will then ramp it up as it sees how it goes. Googlebot decides which site to crawl over h2 based on whether the site supports HTTP/2, and whether the site and GoogleBot would benefit from crawling over HTTP/2, Google said.

Google said sites that support HTTP/2 should see efficiency improvements with this change. Google said it "expects this change to make crawling more efficient in terms of server resource usage."
When asked about ranking benefits for a site in being crawled over h2, Google actually said no. 
And that's all for this week SEO news! We hope you enjoy the updates and have a great weekend 🙂
Updated: 11 May 2021