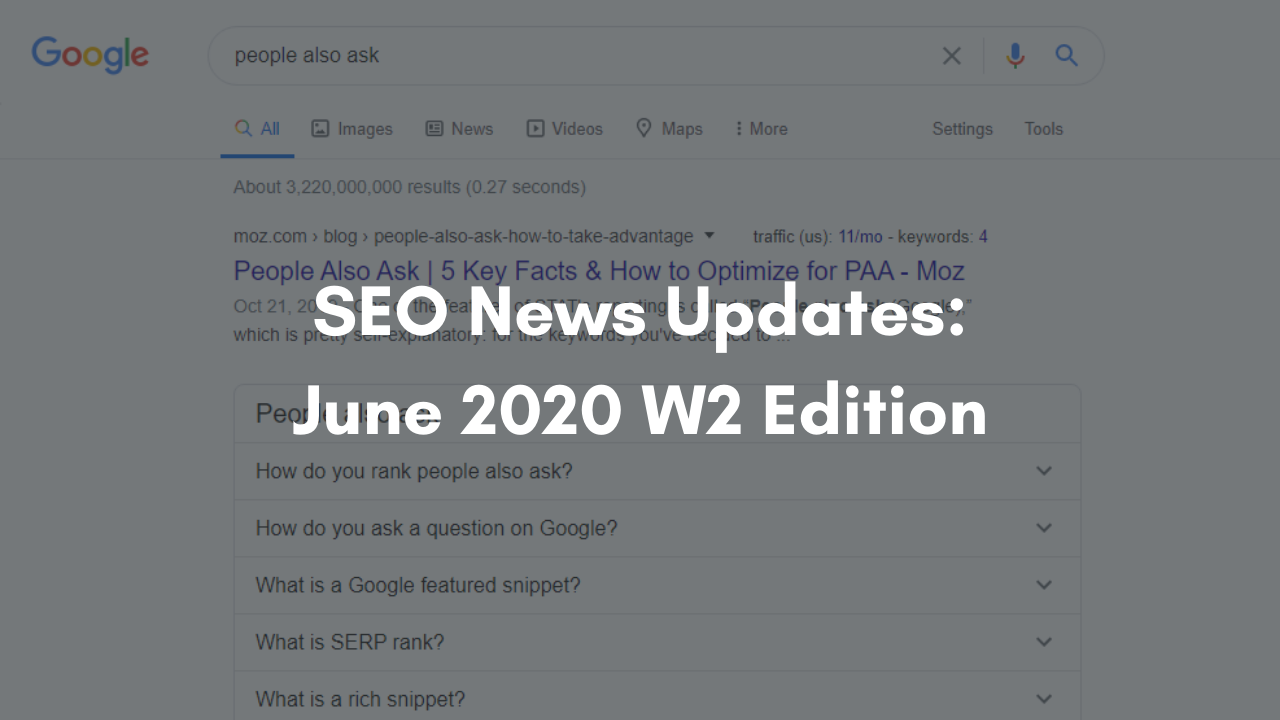 Hey SEO peeps, happy Friday!
In this week's SEO news, you will be seeing tidbits from a podcast interview between Marie Haynes and Google's John Mueller, as well as some new features introduced by Google and Bing that can be super helpful.
Without further ado, let's get into the gist.
5/6/2020 – Google's featured snippet to web page content highlight won't be tracked on GSC
Recapping some news from the last SEO update, Google launched a "featured snippet to web page content highlight" feature, which if you recall is the feature where once you click on the featured snippet, it will lead you to the text highlighted in yellow.
To get a better feel, you can try googling the keyword "adsense pop up ads" to understand what this is.
Additional news on this is that the new featured snippet anchor and highlight feature… well, it came with added tracking parameters to the URL you click on from Google.
Glenn Gabe asked Google if this will be included in GSC, in which John Mueller replied no.
His reasoning was that he feels it will add a lot of clutter, since the snippet and linked fragment can vary from query to query, even for the same URL.
While this could be helpful to track if we have this highlighted featured snippet for our website, still there's not many featured snippet with this attribute as Google mostly curate its answers.
5/6/2020 – Google Keyword Planner adds Refine Keywords
Google added the ability to refine keywords directly in the Google Keyword Planner tool.

This is intended to ease users to find keyword ideas that fit with their new and existing keyword campaigns.

When refining keywords, you can group together ideas based on the attributes of your product or service–like color, size, and more.

An example cited used the topic of "dry skin." And previously, we'd have to sort through thousands of keyword ideas.
Now, this feature allows us to filter attributes to include or remove keyword ideas related to dry skin, such as 'face cream for dry skin' or 'best winter face cream'.

5/6/2020 – Bing Webmaster Tools: New Site Scan Feature

Bing Webmaster Tools just got an upgrade recently whereby Bing released a new feature called Site Scan and it is completely free.

The tool lets you crawl your site and check for common technical SEO issues where you can fix to ensure that your website is search engine and user-friendly.

The scan breaks down your results into 'errors, warnings, and notices' based on severity.
You can learn more about Bing's Site Scan here:
https://www.bing.com/webmaster/help/site-scan-623520c9
8/6/2020 – Google BERT Helps Understand Your Content

An interesting tidbit from Marie Haynes' interview with John Mueller was around BERT.

A transcript from the interview, John says

"…It's not so much to understand the quality of the content but more to understand what is this content about, what is this sentence about, what is this query about to figure out what are the different entities that might be involved here and how are they being tied in here."
The takeaway here was that BERT helps Google understand the content better but it does not help Google with evaluating quality.

…in which Glenn Gabe summarizes it nicely here in this tweet
8/6/2020 – Do You Have Too Much Content on Your Ecommerce Category Pages for Google?
Another interesting tidbit from Marie Haynes' interview with John Mueller was a snippet around how people place text on the bottom of eCommerce category pages.
To this, John comments that 90% of the content in most e-commerce category pages is unnecessary but it is useful to have a sentence or two.
Because he explains this could be confusing to algorithms when they try to figure out the intent of the page with a list of products on top and essentially a giant article on the bottom.
Is it meant for commercial or informational intent?
In short, the takeaway from John is that 90% of that content is unnecessary but it is useful to have a sentence or two.
Most importantly, answer the search intent of your keywords.
11/6/2020 – Google's People Also Ask now shows 2X to 3X More Results
Mark Williams-Cook, the digital marketing director at Candor shared some data on Twitter showing that Google's people also ask box is now going 2 to 3 times deeper with more results as you click deeper.
Here's the data he shared to show how deep it can now go.
Now, you literally can spend hours just looking at People also Ask results but to help you save time, we recommend using BiQ's Keyword Intelligence that will show you both the question and answer in one interface
11/6/2020 – Google SERP Tests: Image next & previous buttons + Divider between Search Results
Google is constantly testing its design for SERPs. This week, once again, users spotted the search engine experimenting with dividers between search results.
This screenshot is courtesy from Vlad Rappoport who posted it on Twitter:
Another SERP test spotted was by Shameem Adhikarath who shared a screenshot of Google testing its image search interface.
This design shows an image screen with image previews filling in the "next" and "previous" buttons.
That ends this week SEO news update, we hope you find it informational and easy to consume.
If you have any suggestions for a better experience, feel free to share it at the comments down below.
Have a nice weekend!
Updated: 28 November 2020