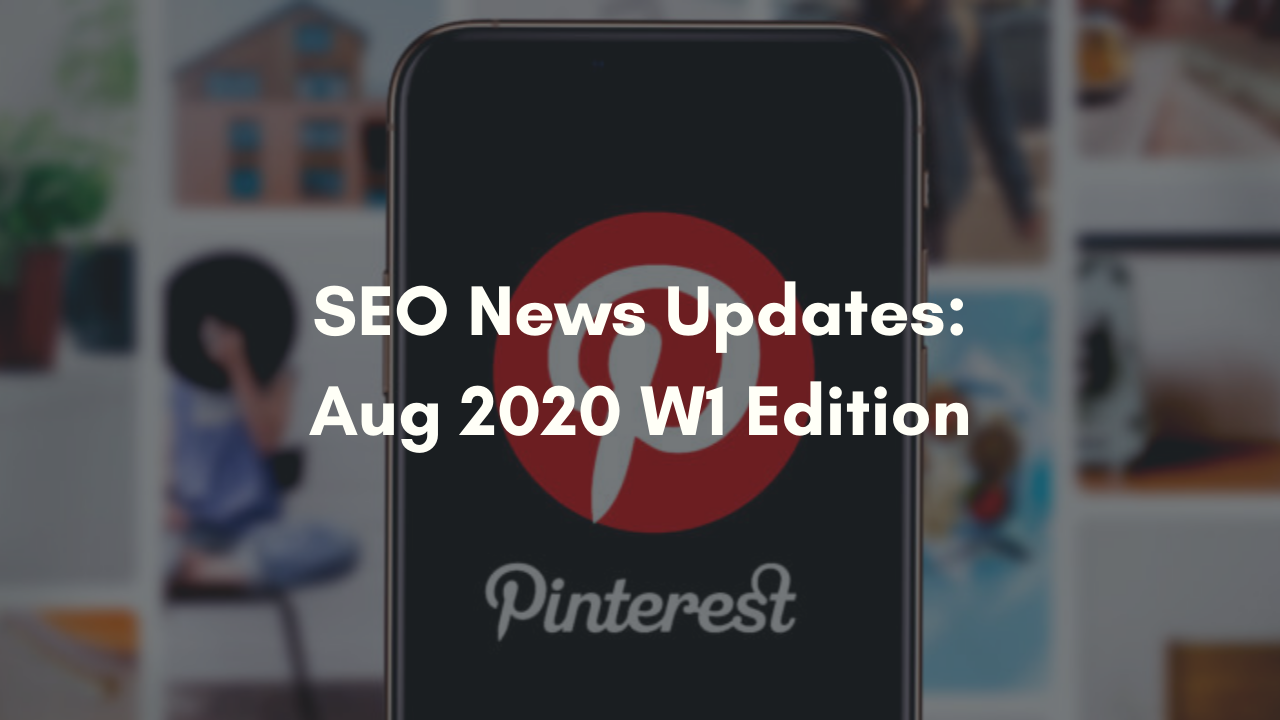 Hey SEO Peeps, it's Friday again which means it's time for another weekly roundup of SEO news. 
To let you get the news in a glance, this week important coverage includes:
Pinterest's May 2020 Core Update
Google's Handling of Links as a Vote of Confidence 
Google's Martin Splitt on How Web Vitals is Measured
Google Search Console & Rich Results Test Tool Supports Image License Structured Data
Web Stories Also Get More Exposure in Google Image Search
For more juicy and helpful insights, read on to find out more. 
30/7/2020 – Pinterest's Biggest Winner from May 2020 Core Update
Lily Ray, the SEO Director at Path Interactive has shared that since the May 2020 Core Update, Pinterest has seen huge SEO visibility increase in the United States. Here's her Tweet, where she also added that the same applies for Amazon.
Marie Haynes shared her insights on this looking at the keyword "boy's haircut" which Pinterest is currently ranking #1 for after the 2020 May Core Update.
Comparing it to this website's content that was previously ranking in the first spot for the keyword, many SEOs would have believed this to be better than the Pinterest page as it is more "optimized", well-written and helpful with a list of over 50 different hairstyles for boys. 
However, it is possible in this case, that more searchers has preferred the Pinterest page. The point Marie Haynes wants to stress here is that "Google is always trying to show searchers the results that are most helpful and not necessarily the most optimized page."  
That's why, if you have lost your rankings with 2020 May Core Update, it might be time to take a look at which new pages are now outranking you? Do they cover the subject differently? Is the article longer or shorter than yours? Do they provide value? 
The answer is to always figure out what your searchers want and Google will reward you for it, when you create content more relevant than your competitors. 
30/7/2020 – Google Explains How they Handle Links as Vote of Confidence
Links. It's all about quality rather than quantity. 
In the past few years, Google has made many improvements to their analytics to finding out if a link is a recommendation for your website and its content, and making those counts. 
In a recent Google Webmasters Hangout. John Mueller stressed again that Page Rank is just one really small part of the bigger Google algorithm. 
The thing is it works in a way that when Google sees recommendations from other websites, they try to understand what that recommendation means.
How that website is interacting with the rest of the web, what anchor texts are involved, and what is the text around those links, before determining how this link should be treated.
And if you are not getting links that are actual recommendations, most likely they are being ignored by Google. 
4/8/2020 – Google on How It Measures Web Vitals
Martin Splitt from Google recently went in-depth on how Google actually renders and measure what it renders on a few Tweets. 
Some context ahead, is that this was an answer to a question from Victor Pan that asked, "If Googlebot uses a non-Googlebot user-agent to check CLS, LCP, and whatever other Web Vital metric, what would its name be called? We implemented dynamic rendering for Googlebot. Should those dynamically rendering worry about Poor URL web vitals in GSC?"
To this, Martin Splitt response highlights on how Web Vitals are measured. 
31/7/2020 – Google Search Console & Rich Results Test Tool Supports Image License Structured Data

Google has now added the still in BETA image license structured data markup to both GSC's enhancement reports and to the Rich Results test tool.
So now if you use this image license markup, you can debug it in both of those toolsets.
Now, if you are unsure what this this metadata is all about. When you add it, Google will show you a new Licensable badge for the image in image search results. Just like below: 
3/8/2020 – Web Stories Also Get More Exposure in Google Image Search

SEOs have been playing with the Web Stories in Google Search for the extra exposure and the potentially higher click through rate. But apparently these web stories are also highlighted in Google's image search results. 
Glenn Gabe, who has been testing these Web Stories out in a big way, tweeted the other day about how Google images shows the web stories icons and that these thumbnails are in "the 3X4 ratio and larger size stand out as well".
So imagine that. It may be time we all test out and add Web Stories into our marketing as well. 
And that's all for this week's SEO News, I hope you enjoy them and have a great weekend ahead!
Updated: 20 September 2020