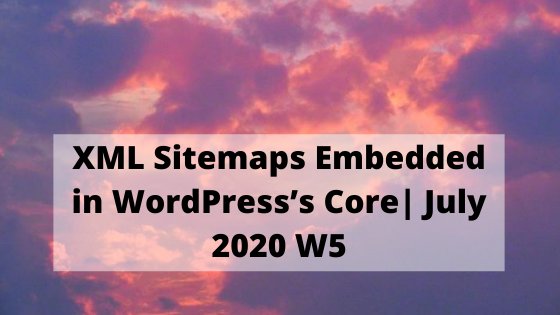 Hi SEO Peeps, it's Friday again and welcome to another weekly SEO Updates! This week we'll once again have our focus back on the more analytics sides of SEO like XML sitemaps, robots txt, and rich results.
Let's get started with the first new of the week!
21/7/2020 – The Rich Results Test Tool Will Be Expanded
Following the announcement that the Structured Data Testing Tool will now be deprecated since Rich Results Test Tool is out of beta, the SEO community was NOT happy with getting fewer feedbacks – since Rich Results Test Tool is only usable for structured data that will be featured in the SERP. 
John Mueller, during the 21st July Google Hangout acknowledged the dissatisfaction among the SEO community and that Google will be working on expanding the Rich Results Test Tool based on the feedback received. 
23/7/2020 – WordPress 5.5 Introduces XML sitemaps functionality in its core

Pascal Birchler of Google announced in a WordPress blog post that WordPress 5.5 will have an integrated feature that adds "basic, extensible XML sitemaps functionality". 
Based on a separate announcement the XML Sitemaps will be enabled by default making the following object types indexable: Homepage, Posts page, Core post types (i.e. pages and posts), Custom post types, Core taxonomies (i.e. tags and categories), Custom taxonomies, Author archives
Additionally, the robots.txt file exposed by WordPress will reference the sitemap index.
26/7/2020- Do NOT use a loading page – John Mueller

As a reply to a Twitter use asking why in the Google cache instead of their actual content, it' only showing the loading screen that they present to users.
The reply is blunt and straight to the point "don't show a loading screen and instead just show your content. *ALL* time you spend showing a loading screen is a delay for users."
27/7/2020 – Google testing yet another SERP design

This time it's grey borders between results. This design test is only noticed on mobile so far. 
2/7/2020 – Bing Webmaster Tools Introduces New Robots.txt Tester
The tester can be found under the "Tools & Enhancements" section.
According to the help document, "BWT Robots.txt Tester helps Webmasters to analyze their robots.txt file and highlight the issues that would prevent them from getting optimally crawled by Bing and other robots."
That's it for the week! With so many new/updated tools, I believe all of us will be busy testing them out. So have fun and if you have any news you think worth mentioning just drop us a comment below.

Updated: 9 August 2022