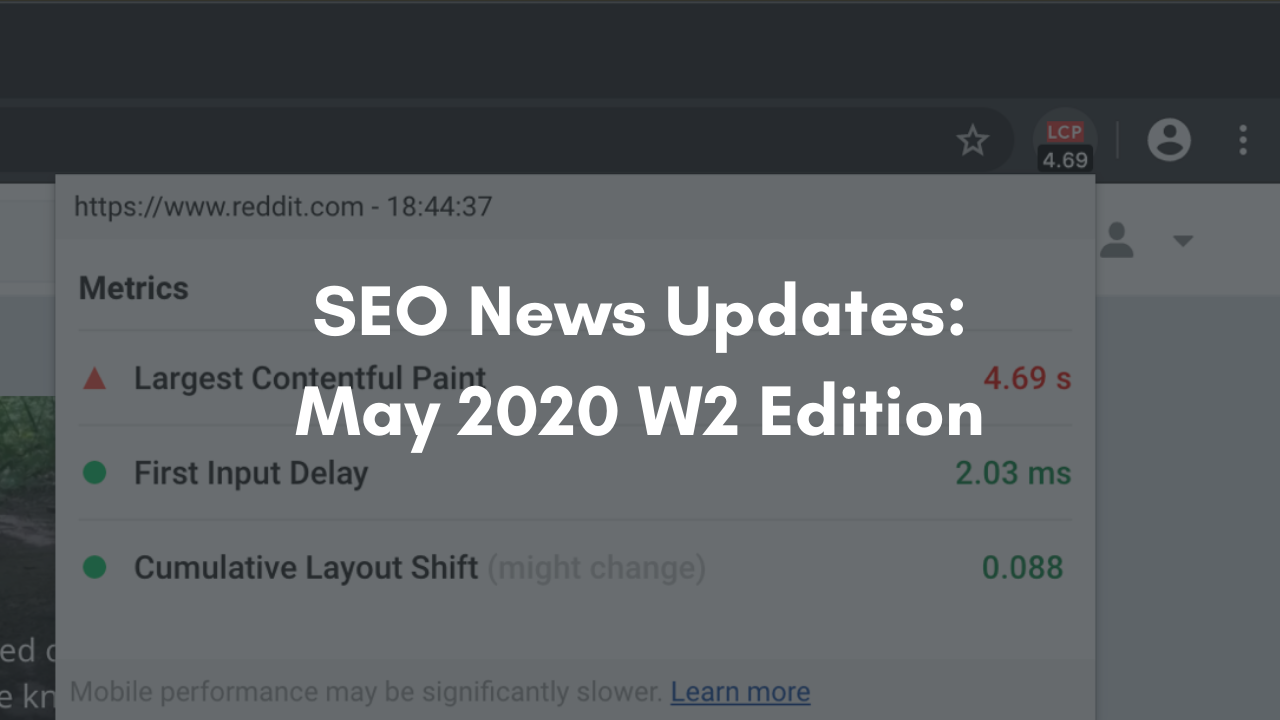 Following Google's announcement on the new Core Web Vitals used to guide developers to create g a great web user experience, including Largest Contentful Paint, First Input Delay, and Cumulative Layout Shift.
8/5/2020 – Google debuts Web Vitals Chrome Extension
This week, Addy Osmani from the Chrome team also introduced a handy extension that will make these metrics easily accessible.
Without further ado, here is how you can install Web Vitals extension in your Chrome browser.
Download the extension Zip file hosted on Github to your computer.

Once the download is completed, extract all the files into a folder.
Launch the Chrome browser, click on the menu icon and select extensions
Enable Developer mode and drag and drop the whole folder to chrome://extensions page, and voila the Web Vitals extension version 0.1.1 will be installed.
Now you can visit any website and click on the Web Vitals icon on the toolbar, and interact with the site to generate a report on the 3 metrics.
Lighthouse joins the party
Google Lighthouse, a tool that analyzes web apps and sites to provide performance metrics also pre-announced on their Twitter account that a new version supporting Core Web Vitals will be coming soon.

14/5/2020 – New SERP Design: Google Tests Boxes Boxes with Shadows for Search Result Snippets
Google is testing yet another new design on SERP. This time, each result is packed in a box completed with shadows.
14/5/2020 – Native Sitemap Support for WordPress coming out… but not so soon
Gary Illyes from Google was quote tweeting another fellow Google engineer mentioning a merge proposal for WordPress 5.5.
Gary shed some light in layman terms that this would be intended for native WordPress XML sitemap support which means the XML Sitemap file will be done automatically when you publish your content.
If you are asking how soon, there isn't an exact timeline for this. But we spotted on WordPress.org blog, that it would most likely come out sometime in August.
14/5/2020 – Google Algorithm May Update Impact
Following the Google Algorithm May update, veteran SEO Marie Haynes posted a question on her Twitter asking her followers what are their traffic status post update.
It turns out: 32% among the 821 votes said that their traffic is down, while 25.8% replied their traffic went up and 26.9% seeing no changes.
So far there are no details regarding what the May Algorithm Update may affect but we will keep you posted.
Also, feel free to share down in the comments below how has the May Algorithm update impacted your sites.

For SEOPressor, we see out traffic going up and we hope our guides have helped you see the same results too!
Updated: 6 July 2022