01/05/2020 – Schema.org Version 8.0
Schema.org 8.0 was officially released this week. Basically, there are a few new markups for education, shipping, and job posting. Here's the official description shared by schema.org.
05/05/2020 – More Local Content in Google's Top Stories Box
On Twitter, Google SearchLiaison shared that during COVID-19, they've seen many searches for news about what's happening in the local areas, such as sheltering updates or the latest on testing.
So, Google decided to make some changes to their Top Stories box. Now, it's showing more local news content in response to coronavirus-related searches, just like the image shown below.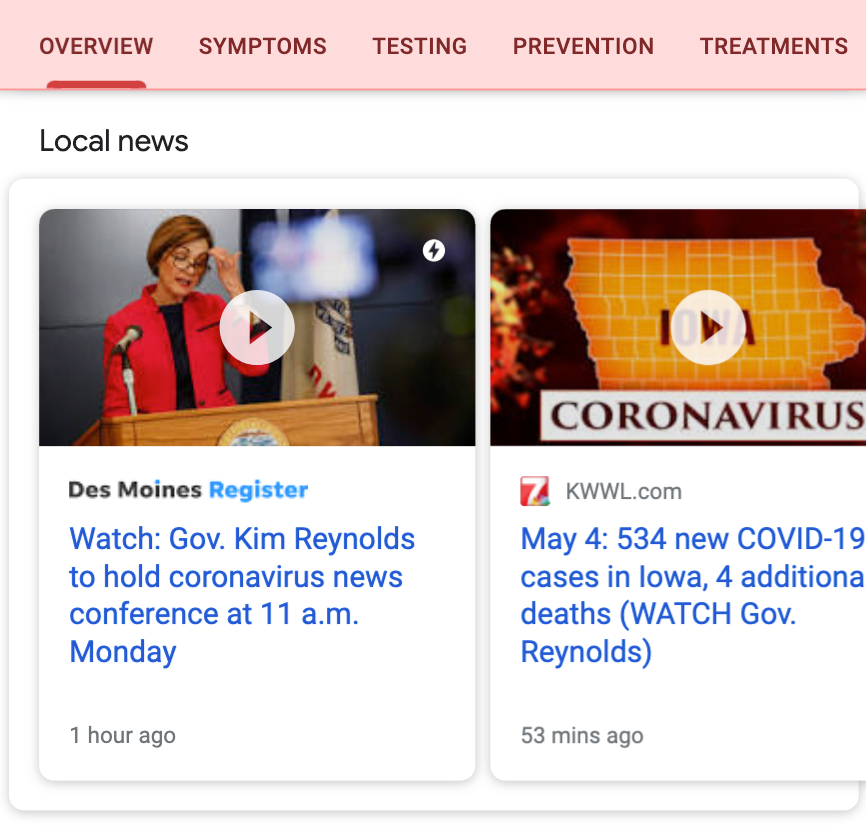 Google defined local news content as "

"It can be material produced by publishers like local newspapers, that we understand specifically serve particular cities or regions. It can also be content we identify as relevant to a particular area, even if written by those outside the area…."
Now, you probably want to increase your chances of getting featured better locally.
But, Google shared that there's no particular change to make because they've already reviewed a number of signals to understand if the content is relevant to a location or not.
Here's the Twitter thread: Google SearchLiaison
05/05/2020 – New Reports for Special Announcements in Search Console
Last month, Google added SpecialAnnouncement structured data as a way to highlight them on Google Search. 
This week, Google announces its support for SpecialAnnouncement in Google Search Consol, including new reports to help you find any issues with your implementation. 
It also lets you know how your rich result type is performing.  In addition, Google also supports the markup on the Rich Results Test to review your existing URLs or debug your markup code before moving it to production.
This report is only available for sites that have implemented the structured data. You'll know if there are any errors, warnings, and valid pages for markup implemented on your site. 
Once you fix an issue, you can validate it using the report where it will trigger Google to recrawl the affected pages. Learn more here. 
In the Performance Report, you'll get to see the performance of your SpecialAnnouncement marked-up pages on Google Search. 
This means you'll see the number of clicks, impressions, and CTR of the pages. Learn more about the Search appearance tab in the performance report.
Lastly, if you've just added the SpecialAnnouncement structured data to your page, you can test them out using the Rich Results Test tool.
Read the full announcement here. 
06/05/2020 – Introducing Web Vitals…
Google Chrome Developers announces Web Vitals, an initiative by Google to provide unified guidance for quality signals that are essential for great user experiences on the web.
Which means more user experience metrics!
Basically, Web Vitals simplify the landscape and help sites focus on metrics that matter most, which is the Core Web Vitals.
On their website, it was stated that there are currently 3 metrics, but it evolves over time.
For now, these metrics focus on loading, interactivity, and visual stability. Namely, Largest Contentful Paint, First Input Delay, and Cumulative Layout Shift. Here's what they mean:
On the page, Google also shared ways you can measure them. They include JavaScript using standard web APIs (Github), Chrome User Experience Report, and Web Vitals Chrome Extension.
The extension uses the web-vitals library to measure each of these metrics and users are able to see them as they browse the web. Some of you may appreciate this extension as you'll be able to see your competitors' performance as well.
If your developers prefer to measure these metrics directly via the underlying web APIs, here are the metrics guide for implementation details:
Lastly, there are some recommendations provided for you to improve your scores. Some of them are as simple as reducing JavaScript execution time and reducing CSS blocking time. Read the full guide below.
That's it for this week's updates. What do you think of this week's update? Let me know in the comment section down below. At the same time, stay safe and see you next week!
Updated: 9 August 2022