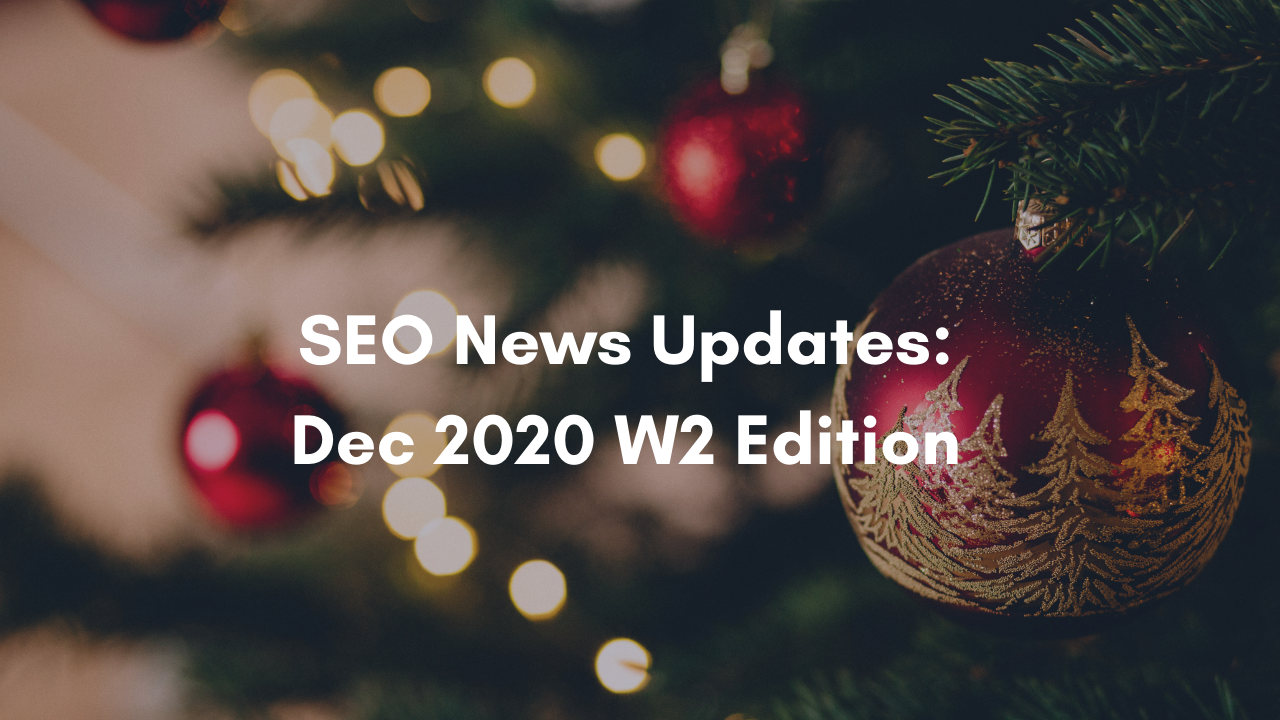 Hey SEO peeps, welcome to another week of SEO news! Christmas is near and the highlight of the week is the aftermath of Google's December Core Update rollout, and other important Google news! 
Here's a quick roundup of what happened:
Data providers said Google's December Core Update was big, even bigger than May Core Update
Passage indexing and the Core Update are not bundled
Google Page Experience and Core Web Vitals Icons now appear in search results
Google search shows "Learn More About" within People Also Ask
Google Ads share lead form extensions across search, discover, and YouTube
Have you ended up on Google's nice or naughty list? Without further ado, let's dive right into the major changes from the December update!
Google's December Core Update was huge… and even bigger than May Core Update
As we all know, Google released a broad core update last Thursday, which is about seven months since its last core update on May 4, 2020.
The search engine tweeted about the news out and shared some guidance about the updates linking to its blog post here. 
Now it has been a week since the update and many data providers are out with some conclusions, and one from Rank Ranger is that the December Core Update sees more volatility as compared to the May update.
This is especially apparent for the Top 20 rankings which sees the most change in terms of ranking position. 
Interestingly, Path Interactive also shared the winners and losers of the December Core update by analyzing 1,021 websites. 
The most striking aspect of this update is the reversal in visibility among several of the sites that were the biggest winners of 2020 in the days prior to the update.
Websites such as Amazon, CDC, Overstock, CNN, New York Times, and other sites that greatly benefitted due to the coronavirus pandemic, mandatory quarantines, and other breaking news in 2020.
Meanwhile, Pinterest which was the winner from the previous May Core Update has now also seen a setback, and more priority seems to have been given to YouTube which makes video marketing a better strategy than ever. 

Then again, this is just the start for the December core update, because these updates usually roll out in succession, so stay tuned next week for more news!

7/12/2020 – Passage Indexing & The December Core Update Are Not Bundled
Alongside the December core update, there has been some speculations or questions with Google, if they were releasing the passage indexing feature with the December 2020 Core Update.
This was later clarified by John Mueller of Google and he said that he wasn't sure if passage indexing is live yet but it is not something that Google would bundle together with a core update launch. 
However, Google did release a statement that it will be implemented by the end of this year. So let's keep a lookout. 
4/12/2020 – Google Page Experience & Core Web Vitals Icon In Search Results
Remember Google said they would soon begin testing a visual indicator in the search results for the upcoming Google Page Experience Update?
Well, we may be seeing Google testing this visual indicator or icon or label in the search results. It looks like a star within a gray circle.


Just this week, Google also published a new thread answering: Core Web Vitals & Page Experience FAQs. So make sure you check this out and get your website prepped for the Page experience update coming out next year!
9/12/2020 – Google Search adds "Learn More About" Within People Also Ask 

Google seems to be testing or rolling out a new feature in the people also ask section named "learn more about"

Here's a screenshot. It shows a box that basically teaches you more about the topic you are searching for. We can't seem to replicate this result, so this might be a test for now. 
8/12/2020 – Google Ads Share Lead Form Extensions Across
Search, Discover & YouTube
Google announced that it is now making lead form extensions shareable across multiple campaign types, such as Search, YouTube, and Discovery campaigns.

Lead form extensions for YouTube and Discovery campaigns are also now available on the Extensions page of Google Ads.
In addition, you can now choose from over fifty available questions to customize lead forms to your business needs.
And that's it for this week's SEO news, we hope you felt informed and have a great weekend ahead! 



Updated: 11 May 2021