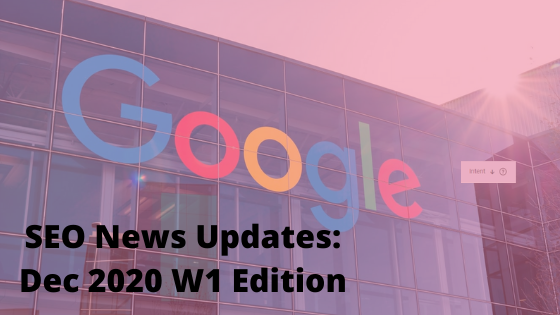 Hey there, I hope you're having a fantastic week so far and welcome to another weekly SEO update post! This week, we have a core algorithm update going on, and more news on the upcoming Core Web Vitals Report.
With no further ado, let's dive right in.
2/12/2020 – Google publishes guide on crawl budget management

Google has published a guide on crawl budget management, and according to Google, you don't need to think about crawl budget unless you are:
Large sites (1 million+ unique pages) with content that changes moderately often (once a week), or
Medium or larger sites (10,000+ unique pages) with very rapidly changing content (daily).
Google also made it clear that crawling is NOT a ranking factor and improving your crawl rates ≠ better ranking.
Read the full guide here.
2/12/2020 – Google uses aggregated data for Core Web Vitals
Kristine Schachinger on Twitter asked for clarification on whether Google uses an AMP page over the mobile page or just the mobile page for Core Web Vitals as a ranking signal.
John Mu's answer is – both. The data will be aggregated depending on which page is being served most frequently to the visitors. So if both versions is being served equally, then the data from both version will be aggregated and considered as a ranking signal.
Read the full conversation below:

3/12/2020 – Google publishes Core Web Vitals & Page Experience FAQs

Continuing with the Core Web Vitals topic, Google has actually compiled a list of frequently asked questions about Core Web Vitals and Page Experience and published the answers on the Search Console Help forum. Some important take from the FAQ include:

– Google recommends websites to hit the 3 thresholds (Largest Contentful Paint, First Input Delay, and Cumulative Layout Shift) for optimal user experience.

– The thresholds will be assessed at per-page level.

– AMP, Progressive Web App, or regular web pages is not the point, as long as you can hit the threshold.

– Page experience as a ranking signal will apply only to mobile Search
Read the full FAQ here.
3/12/2020 – Pages set to "noindex" or blocked by robots.txt are also considered for Chrome User Experience Report

Ruth from Deep Crawl posted a questions asking if pages set to 'noindex' or blocked by robots.txt are considered for Chrome User Experience Report thus influences the Google Core Web Vitals score.
John Mueller once again come through and answered that " Crux data is aggregated across the site, so noindex / robotted / logged-in pages will be included."
Here is the Twitter exchange:
3/12/2020 – Google testing half lines separating SERP features from organic results

Several SEOs has spotted Google testing half lines on the SERP, using it in lieu of the usual box design to keep SERP features such as featured snippet separated from the organic results.
4/12/2020 – Incoming: December 2020 Core Update

Google has started rolling out their December 2020 broad core algorithm update. Their advice to webmasters remains the same, focus on quality content, familiar yourself with quality rater guidelines and E-A-T, and reach out for help on the webmasters forum if needed.
The SEO industry is yet to see the influence of this newest round of algorithm updates since it's just being rolled out. But I believe analysis and reports will be plenty by the next few weeks.
And that wraps up our weekly SEO update! As always, let us know if there's any important news we missed out below. Have a safe weekend and we'll see you again next week!

Updated: 22 May 2022