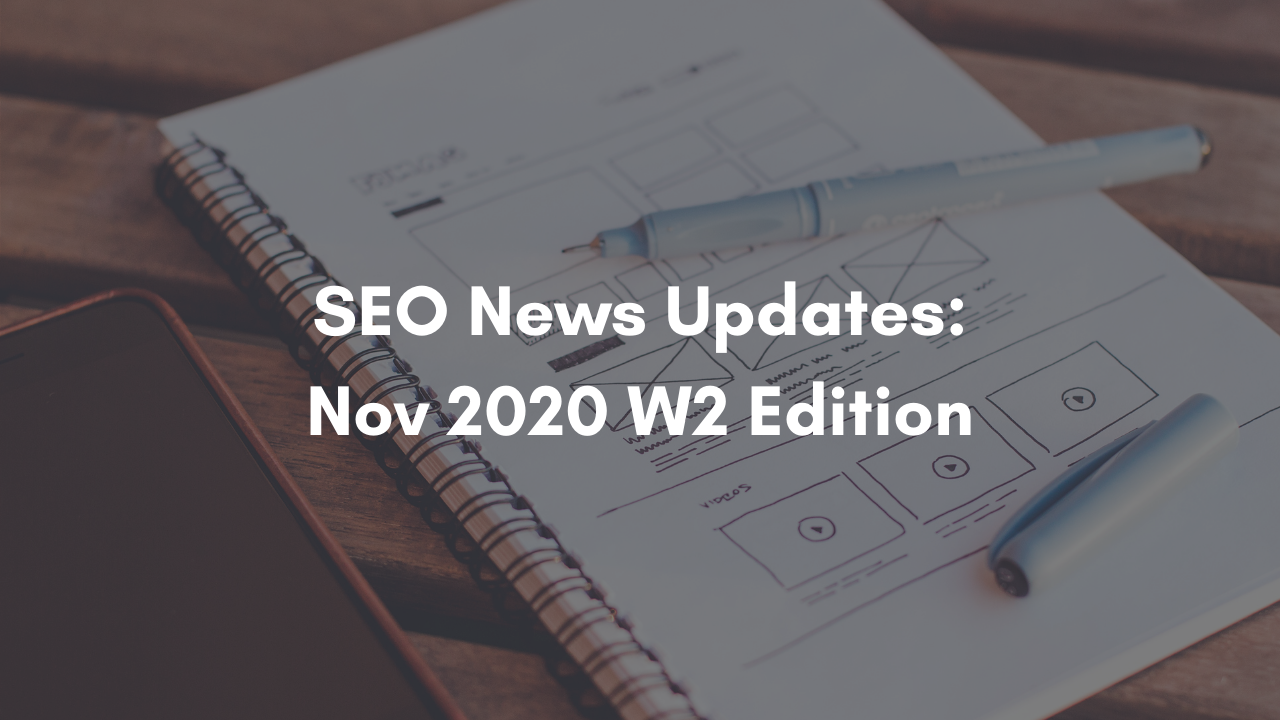 Hey there SEO peeps, it's Friday again! And this week, we have some pretty important news. Google has revealed a new Page Experience Update coming in May 2021.
We've covered all the important details and include how you can pass these ranking signals to get on Google's good side. For a quick weekly roundup of SEO and Google news this week: 
Core web vitals and other UX signals will be integrated into the algorithm starting May 2021
Google investigates complaints of original content not ranking
Martin Splitt shares how Google may be using machine learning during crawling 
Google Passage Indexing vs Featured Snippet and How It might look in the search results
As usual, read on to get into the details. 
11/11/2020 – Google Page Experience Update to Launch on May 2021
On Tuesday, Google made an announcement that page experience signals will be included in its Search ranking signals as of May 2021.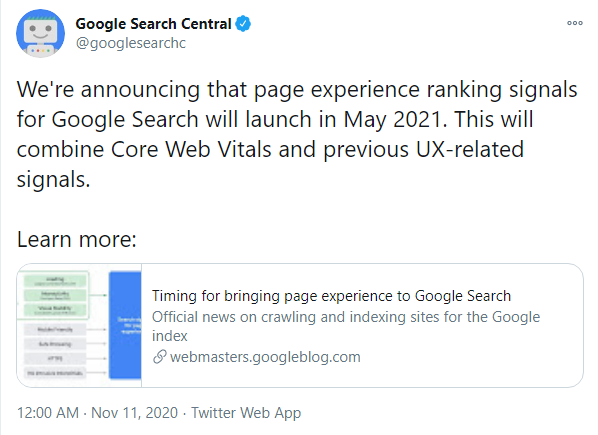 This update is called the Page Experience Update and will include elements such as HTTPs, page speed, mobile-friendly, safe browsing, intrusive interstitials, and now also layout shifts.  
The page speed and cumulative layout shift are now coming from the 3 Core Web Vitals:
Largest Contentful Paint (LCP) which measures the loading time of your largest content
Cumulative Layout Shift (CLS) which measures  the visual stability for users when web page elements are still downloading
First Input Delay (FID) which measures the time when a user first interacts with your site (for example, clicking a link) and the time it takes for the browser to respond
With this launch, Google also said they will also be testing new visual indicators like labels in the search results to communicate to searchers if that page does well with the core web vitals metrics.
Google hasn't revealed how it will look like, but here's a potential example as illustrated by Search Engine Land. 
Google believes that providing information about the quality of a web page experience can be helpful to users in choosing the search result that they want to visit. 

Besides, Google said that when this update goes live, AMP would also no longer be a requirement for being in the top stories carousel and that as long as you score well on page experience, your site can show in top stories carousel. 
On a related note, Google's Addy Osmani also said not to attempt to trick the metrics using the iFrame loophole (that means, to hide the stuff that doesn't score well with core web vitals in iFrame so that Google doesn't see it). 
He explains that it won't work as the Google Chrome UX report does not account for the iFrame content material. 
9/11/2020 – Google Is Investigating Complaints of Original Content Not Ranking

Recently, there has been a number of complaints from various publishers online that Google Search is letting non-original sources of content outrank their original content in Google Search, Google News, and Google Discover.

Danny Sullivan of Google has been responding looking into the matter and is now out on Twitter asking for examples. 
11/11/2020 – Martin Splitt shares How Google May Be Using Machine Learning During Crawling
In a JavaScript SEO office hours episode, Martin Splitt of Google shared that Google uses machines learning for crawling but not for rendering.
When asked, how does Google uses machine learning for crawling? He explains that there are two ways, for 

(i) predicting the quality of the URL before Google crawls it to help allow Google to schedule crawling more intelligently. 

(ii) predicting the freshness of the URL before Google crawls it, which similarly lets it knows the content change frequency data

He however clarified that he is not sure if Google is currently using this in production or if this is experimental so far.

12/11/2020 – How Google Passage Indexing Might Look In the Search Results

Glenn Gabe submitted a question to Google's John Mueller asking him how will Google roll out the passage indexing – what will it look like when it rolls out.
This is because, in the blog post that Google talked about Passage Indexing, they shared an image very similar to the featured snippets. 
For Glenn's full question
When Google announced passage-based indexing, the example it provided in the announcement showed a featured snippet result. Do you know if both featured snippets and the core results in the 10-blue links will benefit from passage-based indexing? Or will it just result in better answers for featured snippets? We haven't heard much on that front yet.

To which, John Mueller responded that he does not know and that everything will be experimental at first to find out how to best implement it. 

"…So it might be that we start showing these in the featured snippets first because I don't know we showed that example or maybe that's the clearest way we can check this. And then at some point, we start showing them more in the normal search results as well.

But again kind of like with all of these newer changes in search. Usually, we try them on a small scale and then roll them out a little bit larger over time."
To make things clear, Google has clarified that passage indexing refers more to passage ranking and that Google indexes the whole content. 
When it comes to the difference between featured snippet and passage indexing, Google explains that the featured snippet is now based on showing the most relevant passage to the query in the top ranking article while passage indexing looks into various passages across articles which is what sets the two apart. 
And that's it for this week's dose of SEO news, we hope you enjoy it and stay tune for more updates next week!
Updated: 17 May 2021