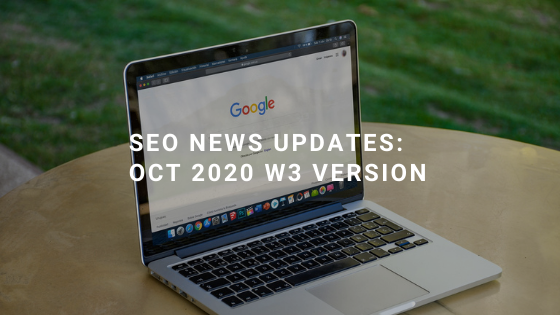 Hey SEO Peeps, welcome to another Friday and another roundup of the weekly SEO news. There are more updates from Google about the confusing partly indexing concern that some SEOs raised following the announcemnt that Google is better at understanding and indexing paragraphs from your web page.
For more news, scroll down and we'll get to it!
15/10/2020 – Google suspends the request indexing function

Google has suspended the request indexing function from their URL Inspection Tool, citing "in order to make some infrastructure changes." Apparently the tool should be returning in the coming weeks, but so far, no luck.
Webmasters would have to rely on Google's automated crawling and indexing function to get any new web pages indexed.
10/20/2020 – Mobile-first indexing means strictly mobile, regardless of your traffic source

Prominent SEO Marie Haynes caught a crucial question asked on the Oct 2nd Google SEP office-hour hangouts. When being presented with a question about whether Google would consider the content on the desktop version of the website for ranking when the majority of the traffic comes from desktop, the answer is a definitive no.
Google also advised to not create a simplified mobile version of the website in that case, and just keep the desktop site instead.
10/21/2020 – Google understanding parts of your content better ≠ only indexing parts of your content

Following an update last week where Google said "…now able to not just index web pages, but individual passages from the pages." SEOs has been confused as to whether it means Google is going to only index parts of a page moving forward.
Which is, luckily, not the case.
Google Search Liaison published a series of tweets further explaining that, what is really means is now Google is better at "surfacing content". Which is best explain with this image below.
Long web pages that focuses on multiple topics can dilute the relevancy to a certain query, even when it's answered.
With its new ability, Google can better better understand individual passages from a page thus ranking them. Instead of looking at the page as a whole.
Google's advice to creators? Just focus on creating great content.
10/22/2020 – Get more discover engagement with better and bigger images

Another news from Marie Haynes.
A client of hers has recently received an email from Google that states "To best engage users on Discover, your site needs great content… as well as high quality, compelling images 1200px wide or larger."
The email advised applying the max-image-preview: [large] robots meta tag setting to enable large image previews for her content on platforms such as Discover.
And that rounds up this week's SEO updates! Let us know if there's any important stuff that we missed or if there's any topics you'd like us to cover.
We'll see you next week, happy weekend peeps!

Updated: 11 May 2021