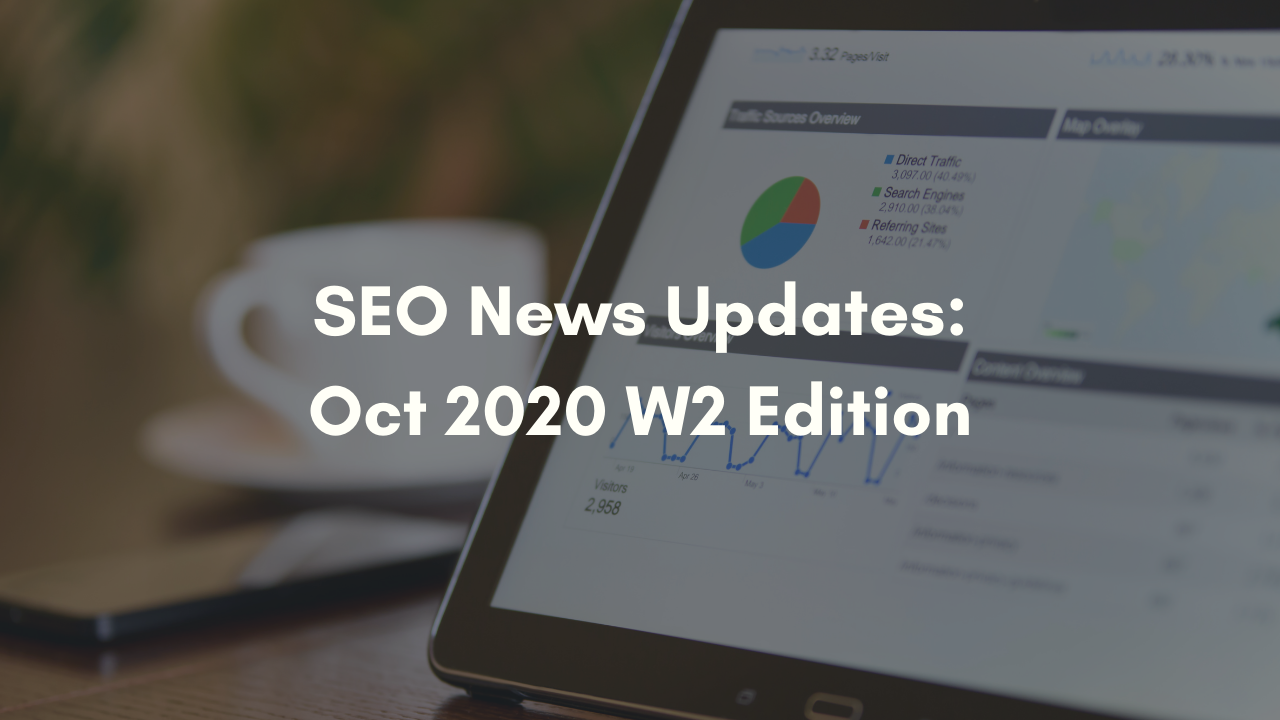 Hey SEO Peeps, it's Friday again… and this means it's time for another weekly roundup of SEO news.
For a quick glance of what's happening this week:
Google introduces new Google Analytics powered by machine learning
Danny Sullivan explains how Google Autocomplete predictions work
Google podcast manager unlocks podcast search performance
Google SERP tests related searches at the top
Google key moments in video with transcriptions
Read on to find out more about the details.
14/10/2020 – Google introduces new Google Analytics powered by machine learning
Google analytics has got a serious update designed to help users improve marketing decisions and get better ROI.
The release, dubbed by many as Google Analytics 4, was announced on Wednesday with 4 new features including:
Smarter insights that use machine learning to identify trends.
Deeper integration with Google Ads.
Customer-centric data measurement.
More granular data controls.
That means Google Analytics is now capable of alerting marketers to important data trends measured through interactions and helping you paint a holistic view of your customer lifecycle.
You can get the full details here at Google's announcement.
9/10/2020 – Google explains how Autocomplete Predictions work
Danny Sullivan from Google recently published a post on how Google autocomplete predictions are generated.

To summarize, the post explains that Google comes up with these suggestions by looking at…
"common and trending queries that match what someone starts to enter into the search box."

At the same time, it also takes personalization and context into the measure and looks at the language of the searcher, where they are searching from, and freshness in the area (in case of news spiking).
He also took to Twitter and clarified that Google autocomplete system is separated from YouTube autocomplete system.
14/10/2020 – Google Podcasts Manager Unlocks Podcast Search Performance
Great news for podcasters!
Google has launched Google Podcasts Manager, which is basically the search performance reports and analytics for how well or poorly your podcasts have performed on Google Search.

Once set up, Google podcast manager will show you information including:
Play by day
Meaningful play (plays over 5s)
Plays in the first 30 days
Impressions by day
CTR
Minutes played
Your top episode
Device breakdown
Top search terms
Top discovered episodes
With this new tool, podcasters will now be able to manage a podcast in Google, to improve how it is shown across all of Google and gain more listeners.
Additionally, the service will help podcasters better understand which podcasts do well and which don't, which can help podcasters give their listeners the kind of content they want to hear.

Maybe, podcast optimization will be in the line soon?
14/10/2020 – Google tests Related Searches again, this time at the Top
This is our second time seeing Google experimenting with the positioning of related searches.
Previously it was along with Google search autocomplete and now it's on the top? Honestly, we find it more of a diversion than anything.
14/10/2020 – Google Key Moments in Videos now with transcriptions
Google launched key moments about a year ago where it shows "in this video" segments directly in the search results.
This allowed the searcher to skip directly to the section of the video that aims to answer their query.
Now, it looks like Google has added transcriptions in the video area so you can read the answer and not have to listen to it.
We are not sure if it is rolled out or if it is a test, but we could find it when searching "SEO tutorial".
Either way, this may be helpful to searchers, but we are afraid it might affect the video click-through rate.
And that's all folks for this week's SEO news!
We hope you enjoyed the news and remember to stay tune next week Friday!

Updated: 11 May 2021