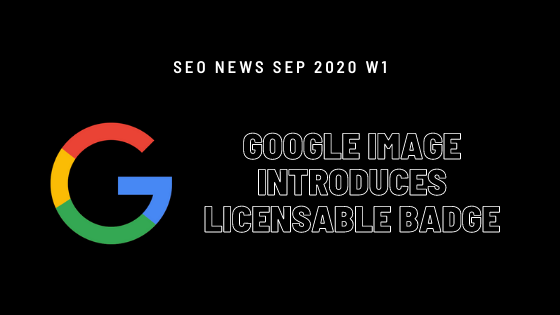 Howdy SEO peeps, welcome back to another week of SEO News update. Hope you had a great week so far and let's dive in, right now.
01/09/2020 – Google Images Showing "Licensable" Badges
This new feature will be a clickable badge, when clicked, shows information and link to license the selected image.
Also new, a filtering function to show images with licensing information only.
Structured data or IPTC photo metadata needs to be added to each licensable image for the licensable badge to show in image search.
Link to the official Google Blog announcement.
01/09/2020 – Bing Has a Brand Spanking New Carousel for Live Stream Videos

The streaming carousel will be triggered when you make searches like "fortnite live stream". Pretty cool.
Here's the official announcement from Bing.

09/01/2020 – Confirmed, Google Supports Brotli Compression
Gary Ilyes from Google, confirmed during a meeting with the Googlebot team, that the bot indeed supports brotli compression.
From Wikipedia: " Brotli is a data format specification for data streams compressed with a specific combination of the general-purpose LZ77 lossless compression algorithm, Huffman coding and 2nd order context modelling. Brotli is a compression algorithm developed by Google and works best for text compression." 
01/09/2020 – Google is Once Again Denying Word Count as Ranking Signal.

Google has been maintaining the stance that short content doesn't necessarily mean low quality nor will it have any difficulty ranking. John Mueller re-confirms this on a tweet asking him "what Google think about word count?"

We shall give the Google team A for consistency, in this matter anyways.
And that wraps up this week's weekly SEO News update. Let us know in the comments below if there's any interesting news that we missed.
We'll see you next week. Adios folks!

Updated: 22 September 2023