This week should be a short one as there isn't much serious stuff going on in SEO. Here's the list of news for this week:
More Product Rich Results showing for pages without structured data.
Google Search Console Performance Report suffered data loss.
Google testing bulleted descriptions in Search Ads.
7/2/2022 – More Product Rich Results Showing For Pages Without Structured Data
Since mid of December 2021, quite some people have been seeing product-rich results in the search results even though the pages did not use product structured data. 
Below is an example of a product rich snippet:
Some shared on Twitter their Google Search Console performance graph, showing a spike in clicks and impressions. All seem to be lining up as the behavior was noticed over the past couple of months.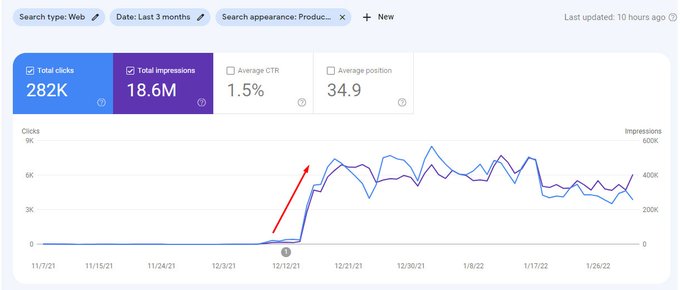 Now, we know Google does not necessarily need structured data to pull this stunt. But structured data makes it easier for Google to do so.
8/2/2022 – Google Search Console Performance Report Suffered Data Loss
Google Search Console is seeing some analytics issues again. Just a few months ago, Google experienced data loss in August 2021 and January 2022. Further on, back in November 2021, there were some data delays as well. 
This month between February 1st to 3rd, Google posted yet another data logging issue on its site. The issue impacted the performance reports for Google Search, Google Discover, and Google News.
Hence, when you log in and view your performance report, there will be an annotation icon on February 1st documenting this data issue. Here is a sample screenshot:
Google informed that the "performance metrics suffered a logging issue on analytics for Search, Discover, and Google News. As a result, you may see some discrepancies in your performance data during this period".
However, no worries as the data loss will not impact rankings in Google Search as it was just an analytics issue.
10/2/2022 – Google Testing Bulleted Descriptions In Search Ads
The last news of the week!
Some people have noticed that Google is showing bullet descriptions instead of sentences in its search ads.
This test has been confirmed by Google themselves as AdsLiaison has replied to the tweet's query.
In my case, I've seen negative responses regarding this test with some mentioning that the ads format makes it look similar to an organic result. Additionally, with the bullet description taking up my vertical spaces, the organic result was pushed further below. Some even called it an "ads engine".
What do you think about this?
Share your thoughts and see you again next week!
Updated: 9 August 2022