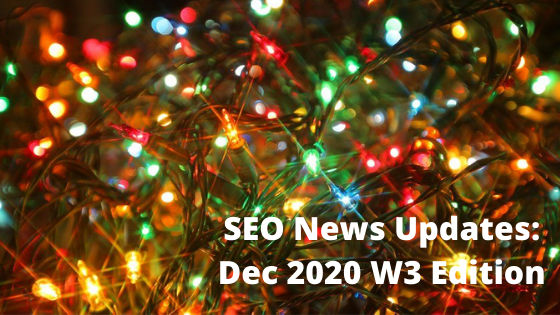 Howdy folks, welcome to another week of SEO news update! Google announces that they are now officially done rolling out the December Core Algorithm Updates and analyses are pouring in.
Other than that, there is also other interesting news like the big Google outage that happened earlier this week.
Let's dive in, shall we?
14/12/2020 – Google Services Was Down

A wide range of Google services including Search, GSuites, and YouTube was down for around an hour on December 14th.
Twitter user Thomas Evans, COO of a email marketing company reported that there were "up to 80% of emails undeliverable to @gmail addresses."
He added "Outside of the email/marketing industry the Gmail outage also isn't getting the attention it should. Sure, people can't access their email now. But the long term impact will be a lot of people being removed from mailing lists and having future important email discarded."
We are not affiliated with Thomas but his advice is definitely wise and will be handy for a lot of you, our readers, who are heavily involved with using email for marketing and outreach.
15/12/2020 – Google Testing Expandable Images And Descriptions In SERP
Twitter user Kyle Faber noticed that Google is testing an expandable image feature. Tweet embedded below.

On a related note, Jordan Long also caught Google testing expandable meta description. Making the expandable character count for meta description reaching around 300 characters.

12/15/2020 – Structured Data Testing Tool Will Now Live On schema.org
Google previously announced that the much loved Structured Data Testing Tool will be depreciated and replaced with Google's Rich Results Test. The decision proved to be not popular and elicited many grievances from the SEO community.
Apparently, Google heard you and they do care about you. The Structured Data Testing Tool will be migrated out of Google and onto schema.org instead, by April 2021.
The tool will, however, no longer check for Google Search rich result types, you'll need the Rich Results Test for that. But it's still good for validating any schema.org properties – which is awesome!
Read the full announcement from Google here.
12/17/2020 – The December 2020 Core Update rollout is now completed

Google announced on the 17th that the rollout for their latest core update is now completed.
Since now the dust has now mostly settled, SEOs started the various analysis on the aftermath. According to Path Interactive, the top 5 winning and losing industries are…
Winners: Finance, Accounting & Taxes, LGBTQ, Nutrition & Fitness, and Groceries.
Losers: Natural & Alternative Medicine, Addictions, Senior Care, Dating, Sports.
With that, we're wrapping up the weekly SEO news update post.
Like always, feel free to drop us a comment if you think there's any important news we missed. Have a great weekend and we'll be back next week!

Updated: 11 May 2021