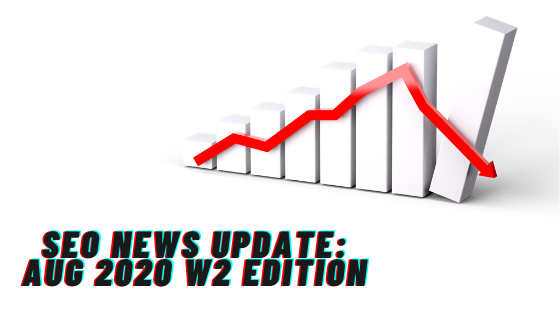 Hi peeps, it's Friday again and it's time for another weekly SEO updates. This week we'll be looking into the mess that is the bug that caused chaos across the search result across all niches, while Rand Fishkin, the founder of Moz has some choice word against Google's John Mueller. Read on!
06/08/2020 – Search Console API Introduces New Changes
Google outlined some infrastructure upgrades to the Search Console API in a blog post announcement. 
Here is the summary of the changes:
Changes on Google Cloud Platform dashboard: you'll see a drop in the old API usage report and an increase in the new one.
API key restriction changes: if you have previously set API key restrictions, you might need to change them.
Discovery document changes: if you're querying the API using a third-party API library or querying the Webmasters Discovery Document directly, you will need to update it by the end of the year.
This will only affect those who are querying the API whether for self-use for for tools needing those data.
Note: The API is backward compatible. 
11/08/2020 – Massive Google Search Bug Igniting Fear, Chaos, and Discontent – Luckily, solved.
Multiple SEOs reported seeing a massive drop of rankings for web pages across multiple niches and was hovering in fear for a Panda-esque update. Comparing it as a disaster for SEOs the scale of the year 2020 itself. Fortunately, Google later confirmed that it was a bug that was then promptly dealt with. 
https://twitter.com/googlewmc/status/1293212810474921985?s=20

According to John Mueller from Google, "If someone could fix the other 2020-issues, that would be great," preach that.  
While Gary Illyes serial tweeted about the intricate and complicated mechanism that is Google Search.
The take-away – search is complicated and we should not jump to conclusions based on only what we know or saw. 

11/08/2020 – John Mueller says guest-posting on sites like Forbes is useless for SEO. Rand Fiskin: "'coughs' Objection!"

In a run-of-the-mill Google rep style, John Mueller chimed in on a string of tweets about guest-posting service saying backlinks earned from such tactics are regularly dismissed by Google.
Rand Fiskin called this out saying "$50 says the Google rep is wrong. I see links in guest editorial that regularly correlate with improved rankings, and I doubt it's all coincidence."
The worst case scenario on being featured on relevant publications according to Fishkin? "*only* get brand lift, attention, direct traffic, prestige…"
12/08/2020 – PeopleCards now live in India – get yourself indexed for Google Search
PeopleCards debuted exclusively in India – acting like a business name card searchable in Google.
Not much information is known about the function of this feature and how it might be tied to entities, or when it's gonna have a worldwide debut.
But Alexander did found a way to create PeopleCards, even if you're not located in India.
https://twitter.com/Aussermayr/status/1293470922494693377

Updated: 20 September 2020