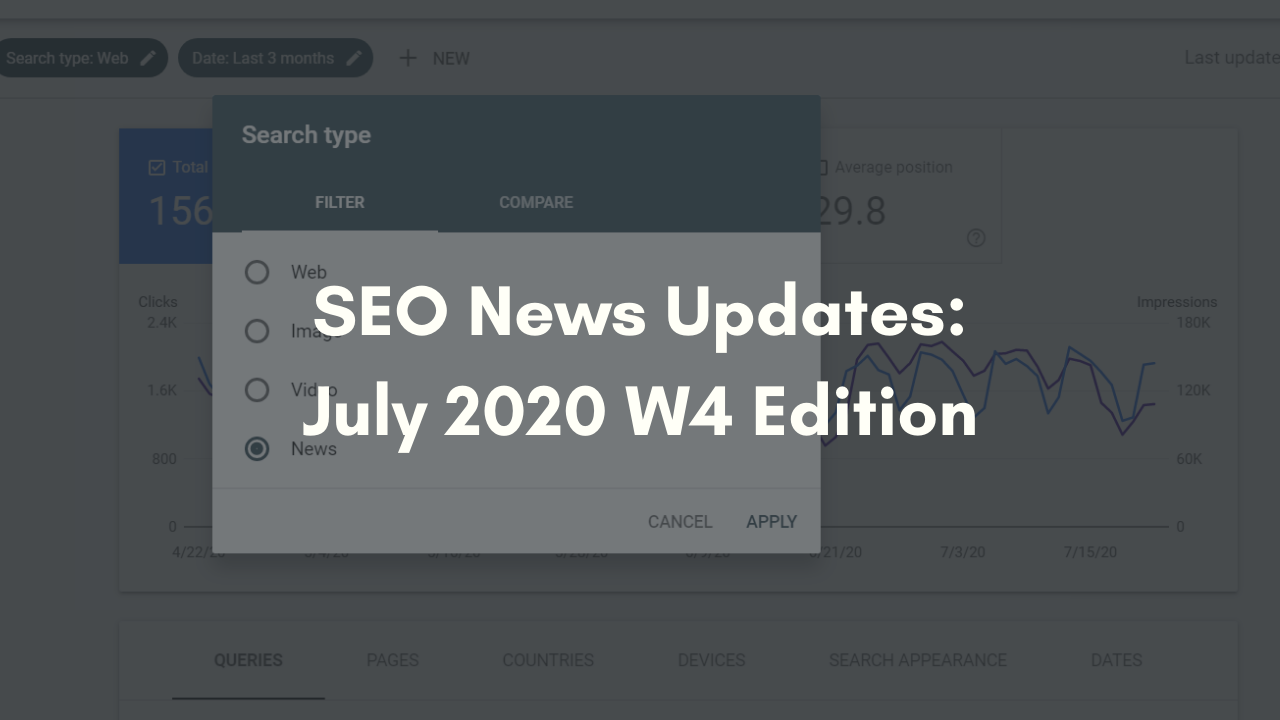 Hey SEO Peeps, it's Friday again which means it's time for another weekly roundup of SEO news.
To let you get the news in a glance, this week important coverage includes:
Google updates Discover support documentation for publishers
Google Search Console Performance Report includes News filter

Test or bug?! Google showing a large image pack for most queries
Twitter Carousel now back in Google result pages
Bing URL Submission plugin make sure your WordPress content is indexed
A helpful programmer and SEOs tip for lazy-loading your images
For more juicy and helpful details, remember to read on…
23/7/2020 – Google further updates Discover support documentation for Publishers to talk about E-A-T
Last week, Google tweeted that they have updated the documentation on Discover to now include E-A-T.
This week, Google has further updated their support documentation for publishers where they have added how content appears in Discover and some tips to help you optimize it.
Specifically, the document says,
Our automated systems surface content in Discover from sites that have many individual pages that demonstrate expertise, authoritativeness, and trustworthiness (E-A-T).
Those looking to improve E-A-T can consider some of the same questions we encourage site owners to consider for Search. While Search and Discover are different, the overall principles for E-A-T as it applies to content within them are similar.
If you don't remember what is E-A-T about or looking for ways to optimize for it, here's a thorough post on the topic to refresh your memory.
21/7/2020 – You can now filter your News traffic in GSC's performance report
Google has updated the performance report within Google Search Console to let you filter by "News" traffic in the search type filter.
Google revealed the news on Twitter this Tuesday, saying that "Now you can analyze traffic coming from the News tab on Google Search and learn more about filtering data on Performance reports."
Here's what it looks like.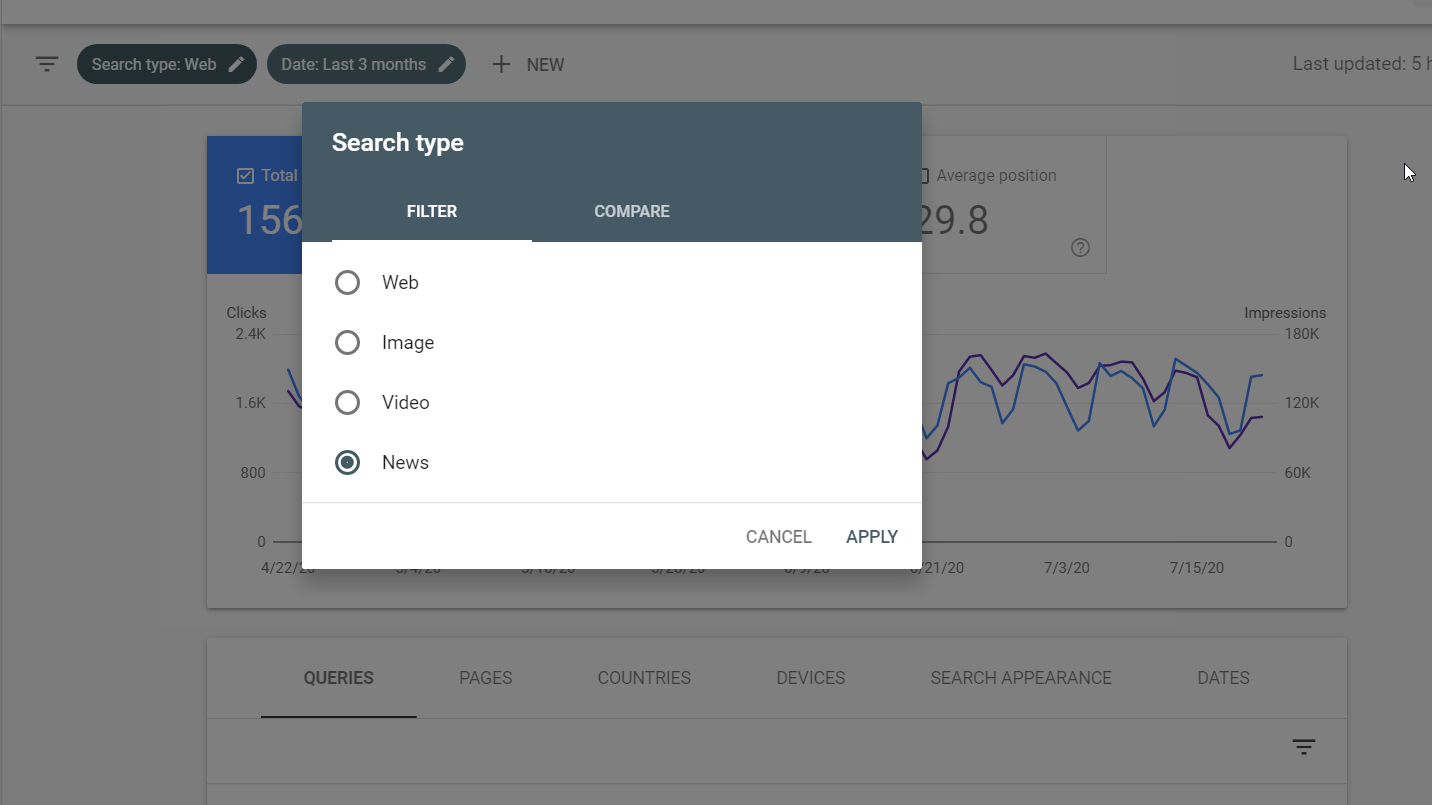 You can find the filter option under the "search type" filter box where you can also filter your GSC data according to Web, Image, and Video.
John Mueller also tweeted about it, stressing that this data is specifically in regards to the "news" tab in Google search and does not count "Top Stories" nor "Google News".
Also, note that the performance report for news filter currently only has data since June 30, 2020.
20/7/2020 – Test or bug?! Google showing a large image pack for most queries
This week, some SEOs have reported seeing Google showing a large box of image results showing first for most search queries.
This image box is not new, but to show so many images, for so many variations of the queries (even for the search term "Google") is quite unusual for the search engine.
Though on this date, I haven't been able to emulate the results. The question begets, is this a bug or might it be a test?
21/7/2020 – Welcome back! Twitter Carousel Now Returns to Google SERP

An update on last week's news but Google has now brought back the Twitter carousel in Google search results on Tuesday, after having it temporarily removed on July 15 for its embarrassing hack.
22/7/2020 – Bing URL Submission plugin help make sure your WordPress Content is indexed
Bing announced a new WordPress plugin that integrates your WordPress site with the Bing Webmaster Tools URL submission API.
Bing said the Bing URL Submission plugin enables automated submission of URLs from WordPress sites to the Bing index.
Once installed and configured with an API key obtained from the Bing Webmaster portal, the plugin detects page creation/update in WordPress and automatically submits the URL behind the scenes ensuring that the site pages are always fresh in the Bing index.
Besides, you can also use the new plugin to:
toggle the automatic submission feature on and off
manually submit a URL to Bing Index
access the list of recent URL submissions from the plugin
retry any failed submissions from the list
download recent URL submissions for analysis.
To install the plugin for log in to WordPress admin panel for your WordPress sit. visit the Bing Webmaster tools.

Extra tip for Developers and SEOs – Lazy-loading Images
John Mueller recently shared what he called an SEO-safe way to improve loading time for large images, all you need to do is add "lazy=loading" into the image tags of your large images.
Thanks, John for the tip, and I hope this week's SEO News has been helpful! As always, don't just read but implement them, and see you next Friday.
Updated: 5 October 2022