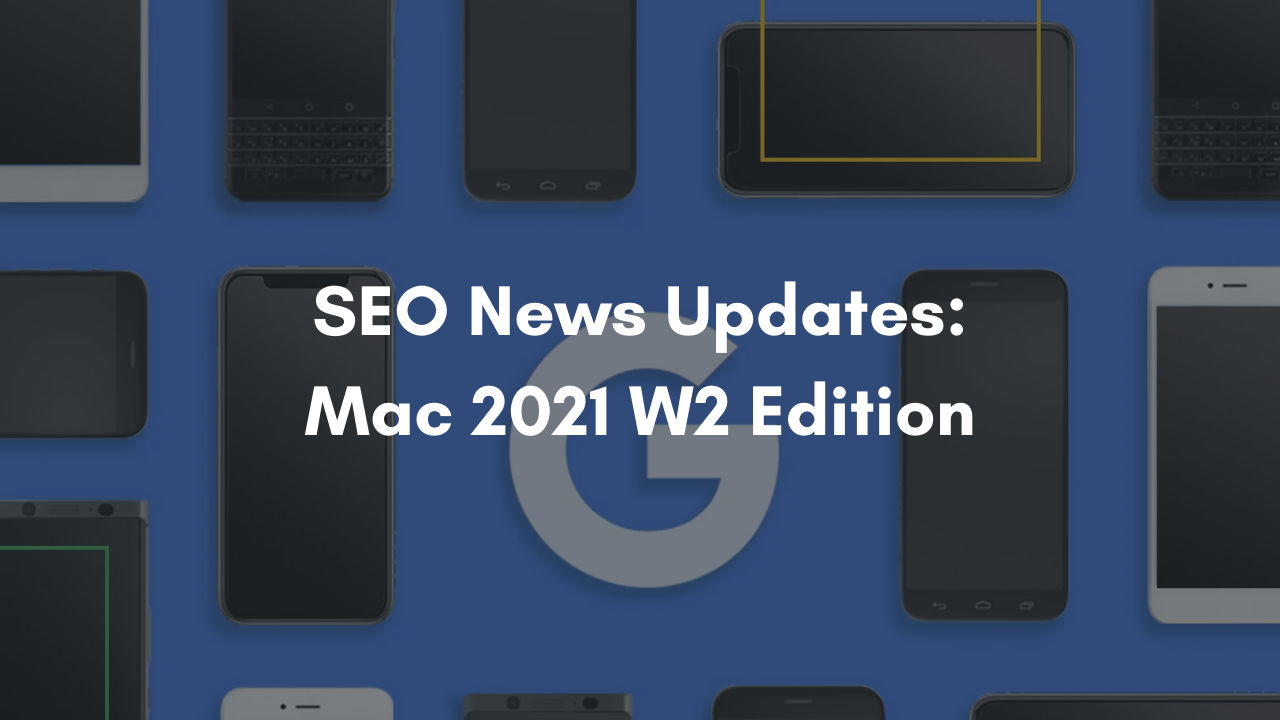 Hey SEO peeps, it's Friday and this means it's time for another weekly round of SEO news updates!
And here's a quick overview of what happening this week.
Google to move last batch of sites to mobile-first indexing soon
Google on search rankings with hyphenated words
How to update your Google featured snippets
Google disputes zero-click study, shares more data
22/3/2021 – Google to Move the Last Batch of Sites to Mobile-First Indexing Soon
Google's John Mueller said in a video hangout that Google has stopped automatically moving websites into the mobile-first indexing system.

Instead, the last batch of sites are being queued up and will all be moved over sometime in the coming month or months.

He said the next time Google moves sites to mobile-first indexing it will likely be the last and then every site served by Google in its search results will be through mobile-first indexing.

In the case of desktop-only sites, they will be indexed using a mobile user-agent (like a mobile browser).

Previously, Google moved the deadline from September 2020 to March 2021. Now it might be March, April, or even May but John said it will happen.
25/3/2021 – Google on Search Rankings with Hyphenated Words
The topic of hyphens between words is a classic old-time SEO question, but recently it resurfaced again as John Mueller of Google was asked about how Google treats words with hyphenation.

For example, is WiFi the same as Wi-FI to Google, and does Google always ignore the hyphen between words and so on.

The truth is, it depends.
Google learns how to treat different words in different ways, with or without hyphens. While maybe WiFi and Wi-Fi mean exactly the same thing to Google for ranking purposes, maybe another word with a hyphen may mean something else without a hyphen to Google. Maybe it is for brand ranking purposes or maybe something else.

John Mueller of Google said on Twitter "No, by default we don't ignore hyphens in words. Sometimes we learn they're synonyms, sometimes we learn that they're not."
Here's the exact tweet.
22/3/2021 – How to Update Your Google Featured Snippets

Google's John Mueller was recently asked about how you can update information on Google's featured snippet.

To which John Mueller clarifies that you cannot email Google to update that information, nor really use the "feedback" link to get it updated faster.

Instead, what you need to do is to update the content on your web page so it is what you want Google to have, then you want to get Google to recrawl and reindex the page.
To do that, you want to update "the sitemap's last modified date, or for individual URLs, by using Inspect URL + Submit to indexing in Search Console," John said.
However, do note that this could affect your Google's featured snippet ranking, and you might even end up losing it in the end.
24/3/2021 – Google Disputes Zero-Click Study, Shares More Data
Google recently responded to Rand Fishkin's zero-click study (based on SimilarWeb data) that said 65% ended up without a click.

Basically, Google's response is that…

"Google Search sends billions of clicks to websites every day and we've sent more traffic to the open web every year since Google was first created."

They wanted to set the record straight and the post placed an emphasis on the context of search. The post shared more information into how people usually use search…
People reformulate their queries – people don't always know what they want to ask when they first begin searching. Often it starts with a broad search which results in no clicks.
People look for quick facts – people are often on the look for quick, factual information like weather forecasts, sports scores, currency conversions, and time in different locations, info they would get the answer for on the first page.
People connect with a business directly – for local businesses, the conversion doesn't always mean a traditional click. It can be a phone call, directions, or making reservations.
People navigate directly to apps – some searches take people to the apps directly, rather than websites, for example, Netflix or Instagram.
At the same time, the search engine also revealed some of its statistics.
On average, local results in Search drive more than 4 billion connections for businesses every month.
This includes more than 2 billion visits to websites as well as connections like phone calls, directions, ordering food, and making reservations.
Each month, Google Search connects people with more than 120 million businesses that don't have a website.
Google sends billions of visits to websites every day, and the traffic Google sent to the open web has increased every year since Google Search was first created.
Google search results page, which used to show 10 blue links, now shows an average of 26 links to websites on a single search results page on mobile.
Which goes to say it's not zero-clicks. If you'd like to learn more, you can read all about it directly here in Google's latest post.
And that's it for this week's SEO news. Enjoy your weekend and till we meet again, stay updated and on-trend with SEO through SEOPressor.
Updated: 22 April 2021