This is a continuation of the previous chapter: Link Building Secrets – Part 2.
9. Competitive Link Building
Time to catch up with your competition. That's exactly what we will be looking at now. The basic idea is to spy on your competition, see what really good links they have and the try to get links from those sites that are giving them the good links.
Here's how it is done.
1. Pick your biggest, more SEO-gifted competitor. And use a tool like Open Site Explorer to check the backlink profile of that site.
2. Filter the results to include only followed or 301 redirected. Download the report.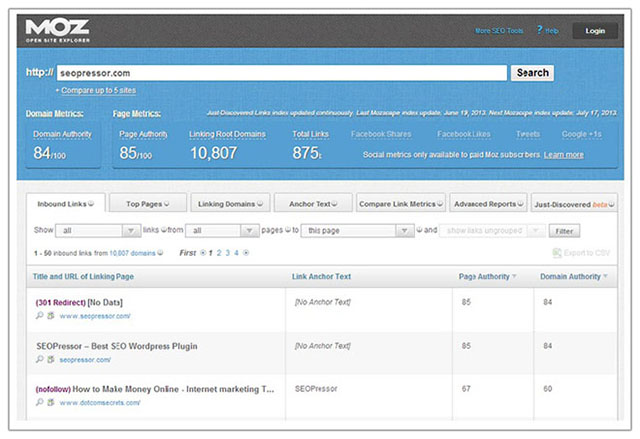 3. Review the links. Do a crawling test with a tool like screaming frog and delete any links that return an abnormal http response (404,302 etc). And also delete inactive links and eliminate domains that are already linking to your own site. (It happens, you don't want to waste your time for a link you already have.)
4. Now its time to do some clean up. If you have gathered too many links and would love to cut down on them, I suggest using the MOZ Page Authority (PA) rank to eliminate all URLs that fall below a certain PA number. Set it according to how many links you are comfortable working. Also eliminate multiple links from the same site (treat it as one).
5. Go to Google and search for each of the links. Click on the dropdown next to the links in the Google search results. If any of the link is not cached, then delete them. Same goes to the links that are not cached in a long time. This means that web property is not an hot link. Any link that has not been cached in the past two to three months, is a cold link. So delete them.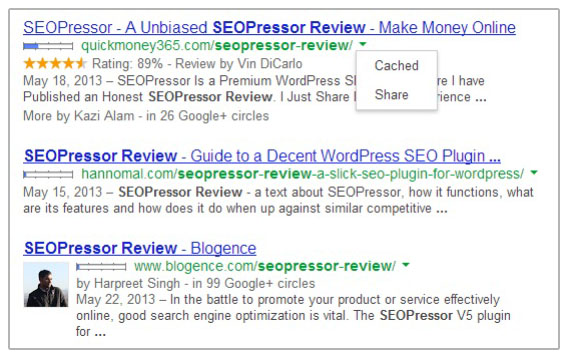 Once finished, this process will leave you with a bunch of strong link candidates from your competitors portfolio. Typically, this will be around 20% of the total links your competitor has.
10. Giveaways
Giveaways are competitions run by your brand that gives away some cool stuff. To extract maximum link juice from the competition, offer reward or anything that will encourage participants to share the event in Facebook, twitter or any other social media channels. This sometimes helps get links from authoritative sites or domains.
If you have a very cool giveaway, you can also ask all the bloggers in your industry to blog about it and chances are they will do it.
Partnerships work very well in giveaway, so you will be able to pool resources. Your partner site's cool resource and your giveaway resource, added together make up for a really awesome giveaway. Both partners benefit from the links and the social media reach for the competition goes up because now you have got something really awesome to give away.
What should you give away? Value. Give away your most valuable stuff. Typically you would want to give your high margin products so it won't affect your bottom line too much.
11. Product Reviews
This is another form of giveaways, but this time you are giving it away to other prominent bloggers in your industry who will review the product and give you links. Following up is a most important factor here. If your product is a physical product, sometimes the bloggers can forget to actually review the product even weeks after they receive it.
And if you would like to make it super cool, then combine product reviews and giveaways. This works well for other popular bloggers who have a large audience. You give one of your product away for review and give a few more for their readers. Once you are known to do this, bloggers will start reaching out to you to do the same.
12. Localized Link Building
When most of your customers are located in your local area, local link building automatically becomes the most important aspect of your search engine strategy. In fact, local SEO is the most competitive arena because it's easier to make a sale. Consider this, you will trust a plumber or painter or car mechanic in your town than one that's 50 miles away, right? Same goes for a web developer or SEO firm.
So how can you start localized link building? Read on.
a) Comment On Local Blogs:
No, we are not talking about using a auto-commenting software to spam all local blogs' comment boxes. What we are teaching you here is ethical rapport building. You see, first you connect with your local bloggers. Just let them know you are doing business locally or have a website focussing on the local area.
At the same time, you should start engaging with them on their blogs exchanging thoughts and so on. This will create an honest conversation between you and the local bloggers. And guess what, everytime you talk to them via their blog, you get a link, assuming they have a dofollow link.
But fret not, if they do not let you have a dofollow link. Talk to them anyway. Chances are, their audience might get interested in your products/services. One good practice is to leave links to different pages on your website, each time you comment. Rotate links.
How do you find the local blogs? Go to http://www.google.com/blogsearch and search for something like this
inurl:location "keyword" comment
Substitute the location for your place and replace the keyword with your focus keyword.
b) Guest Post On Local Blogs:
Once you have done the above, securing the opportunity for Guest blogging is easy like 1,2,3. Very localized niche guest blogging is extremely effective in the sense that, it gets you results fairly quickly.
Before you approach them with a guest blog pitch, make sure you have done your research. Know what topic you are going to write and that should be interesting to his/her audience as well. And most importantly, offer something of value to the blogger so that he/she will do it as soon as possible.
Try doing a search with this command:
inurl:location "guest post"
Change location with your location. This will reveal to you a list of bloggers in your location who are actively seeking guest bloggers.
This way, you can shortcut the whole process. If possible leave you business name and address in your author bio when posting the guest post.
c) Give Testimonials For Other Local Businesses:
If there is other local businesses that you like or who are really good in their trade, then look up for their websites and contact them to offer a testimonial in return for a link from their website. Look for websites that are already ranking on the page 1 of Google for the local search.
This helps greatly if both your business and the other business are in the same niche.
Please be careful not to leave a testimonial solely for the sake of getting the link. Be true to yourself and leave a glowing review if the business deserve it.
d) Local Scholarships/Contests:
Offer scholarships or contests for local schools or universities. Use the command below to find institutions that are seeking external scholarships or sponsorship contests.
inurl:.edu "outside scholarships" "location"
Replace location with your local area.
Yes, you will have to honor the scholarship and play by the rules. Make sure, you ask them to list your contest/scholarship/sponsorship on their website and if done successfully, you will end up with a high ranking link that gets you ranking locally in an instant.
Once you get linked to the edu site, make sure you link your Google Plus page to your web page using the keyword "location" "keyword". Then use the contest page on the edu site with your link, promote that page to other local blogs or directories and encourage them to blog about it.
e) Localized Content Marketing:
Write content based on localized topics. That's a great way to get the attention of other local bloggers, authority sites or directories. The content can be a blog or a video.
There are quite a few localized topics that might do the trick. Produce content based on these.
Local Laws, Ordinances, Listings
Which is the best "keyword" in "location"? post for your location, your industry.
Which is the best "keyword" in "location"? post for your location , different industry.
Local Events Coverage Videos/Blog Posts.
Host a local vendors directory page on your website for other products that your target customer might be interested in.
Participate in local charity events and promote it on your website.