It's all about Return On Investment, right? If you can't guarantee ROI, you're probably going to treat SEO Content Strategy like a leper, and rightfully so. Without a definite plan of action, you're just throwing pennies down a well. Before you begin your new marketing campaign, consider these important questions.
After analyzing your basic information and determining what you have, ask yourself if you have a system that's easy to access and easy to keep regular with new plugins and optimization techniques? (WordPress is recommended for this purpose)
Is your theme consistent with your company? Does it hinder your optimization plans (as we discussed) with a complicated format?
Where is your traffic going to come from? Have you analyzed your analytic's and targeted your ideal audience?
What areas of your WordPress site and web marketing campaign need improvement? If this is a first-time effort what deliverable's are you going to have ready within a certain milestone? If you are taking over a site what off-page and on-page factors need attention and why are these relevant to your audience?
What are you doing to build links and to promote your WordPress website and social media pages?
What keyword research are you doing and what tools are helping you plan your selected keywords? How many articles can you afford to publish on a weekly or monthly basis? What keywords are your competitors using and how has it worked out for them according to SERPs and page rank?
What milestones have you set? How will you know if this is profitable for you and what indicators are in place to measure your performance? Are you planning to publish and review monthly progress reports, comparing them with your goals?
What relationships are you building to create links? Links are all about the relationships with other website owners that you can develop. How are you planning to branch out? What niches are you going after?
The SEO campaign should be focused on growth not literally just thinking about good writing or keywords. You have to take the helm of the campaign and determine what to do when you notice developing trends and how to "chase" the audience that is responding to your content.
Always ask yourself what comes after the SEO campaign? After you lure viewers there how do you follow up? Is there a newsletter, an online store, or a login form that keeps the relationship between merchant and client going? In web marketing good writing isn't the issue. It's the bond you build with your customers.
The Ace in Your Sleeve: Longtail and Local Keywording
Just in case you need an ace up your sleeve—and believe us, you will because you're not going to make a dent in the market with just a few blogs and general words—here it is. You can earn more traffic and better conversion by niche targeting and narrowing down your audience.
The biggest trend in SEO today is local optimization and content production. The market is so oversaturated with web content, and from companies big and small, that search engines are now switching their focus to local content. With the help of Google algorithm updates like Venice, they are sending local traffic to nearby publishers and company websites, keeping commerce closer to the home city.
While there are monster-popular sites that take in the lion's share of world traffic, a lot of searches do end up localized, and sometimes even without the user's knowledge. It's logical; if a user types in Pizza in New York, there's really no reason for a pizza chain in Florida to come up in the search. The search engines are wising up to little details like this.
Therefore, one of the most effective strategies is to find good keywords in your area but then develop content and optimize your site to include location; from cities to regions to states to even boroughs or neighborhoods.
Search engines are trying to find more locally based content, which is one of the primary reasons Google launched Google +, Google Places, and Google Maps. Simply creating a Google profile, as well as profile for your business, is a great way to alert Google as to your Internet presence.
You can further develop content based on long-tail keywords, with local identifiers. This allows you not only to but also to "funnel"your audience coming in, getting rid of the broad audience that is likely not interested in buying your products, and welcoming in a smaller number of visitors that are interested. You will direct them to your site with specially chosen longtail keywords that speak directly to their market need. It's cost-effective and time-effective.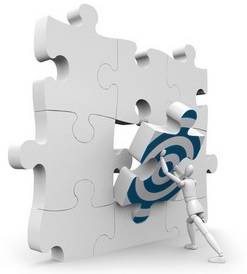 A keyword phrase like "vegetarian tofu pizza in New Jersey" is a very niche-oriented keyword, and with the identifying adjective, you are going to jump up in the search results, since most other companies might not be offering such a specific dish in the same location. You're not getting "big traffic"—you're getting targeted traffic.
Remember also that you can always expand your location campaigns, developing a solid SEO content strategy and sites for all of the areas you do business in. As long as you don't duplicate yourself, and spend time creating content that is specific to the region, the search company will find every reason to support you.
Now that you have the learn how to build a solid SEO Content Strategy, let's expand this thought and purge deeper into what it means to be competitive. In the next chapter, we're going to discuss creative strategy.